---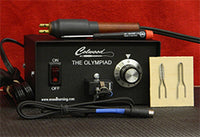 Olympiad with Hot Knife & Handpiece Cord
The Olympiad is Colwood's most powerful unit. Pictured with the Olympiad is the "Hot Knife", which is included and is used when you need that extra amount of heat. The "Hot Knife" is great for making plaques and signs. Like all of Colwood's control units, The Olympiad carries a two year warranty and accommodates all of Colwood's standard tips, both Replaceable and Fixed.

The Olympiad includes the Hot Knife with two tips, the Detail and Writing tip. It also includes a new and improved tool used to replace the Hot Knife tips.

New to the Olympiad is the 120V 10amp receptacle located on the back of the unit that can be used to power such accessories as lamps, fans, tools, etc. Also, a 3 wire line cord for additional safety. Recently added is special circuitry that will compensate for fluctuations in line voltage.
Warranty: Control Box Only (2 Years)
Footprint: 6.25" x 5.0" x 3.25"
Weight: 5.0 lbs

Features

Widest heat range of all our units.
120V / 10amp outlet for powering external devices
Lighted on/off switch
Precise solid state temperature controller
One Heavy Duty (16 Gauge) handpiece cord that will accommodate RT Handles, RT Tips and Fixed Tip Handpieces
Hot Knife (pictured) with two tip styles.
Great for heavy insertion work
Ideal for gourd artists, bird carvers, woodworkers, and plaque and sign makers
Our standard RT Handles, RT Tips and FT Handpieces are sold separately