---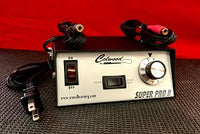 Super Pro
The Super Pro is Colwood's most versatile unit and features a wider heat range and is more powerful than the Detailer and Cub models. The Super Pro has two handpiece cords, 14 awg and 16 awg. Only one cord will get hot at a time; there is a front panel switch to choose which cord is operational.

Comparable in wattage to the Detail Master Excalibre.

Features

This control unit is design to operate on 120V and NOT intended for use in countries where 220V is the standard. A 220V international unit is available here.
Warranty: Control Box Only (2 Years)
Footprint: 6.2" x 4.5" x 2.7"
Weight: 3.2 lbs

Front panel switch allows carver to have two different tip styles set up and ready to use
Two handpiece clips for mounting handpieces
Two terminal barriers for easy replacement of handpiece cords
Separate, lighted on/off switch
Highly visible, slanted front panel
One Heavy Duty (16awg) Handpiece Cord (16 gauge)
One High Power (14awg) Handpiece Cord (14 gauge)
Tips and handpieces sold separately
Excellent choice for gourd burning
Also available in a 220 Volt model for international use